Wholesale Ice/Snow Melt Products
Ice and Snow Melt systems eliminate manual snow removal. Radiant Wholesale Supply LLC has a complete line of electric ice and snow melting cables and mats. These systems automate the task of removing ice and snow from sidewalks, driveways, patios and more. These cables work under concrete, asphalt and pavers. Combined with controls to sense temperature and moisture they virtually eliminate manual snow removal and keep your property safe from the risk of slip and fall injuries. Imagine never having to shovel snow again or use harsh salt or chemicals to try and melt ice and snow!


Ice and Snow Melt systems run off of electrical resistance cables, using electric energy to generate heat. Electric systems require far less equipment to run, as there is no need to install a boiler, return manifolds, or circulating pumps; all you need is an electrical source and a controller. Along with this, the system is quicker to respond and warm up, since it is electric based. Running costs will vary from location to location, depending on local energy rates, amount of snowfall, etc.


Cables are spaced at either 3" or 4" apart depending on the desired heating output. Generally see Danfoss Installation Guide for Instruction, 4" spacing will adequately melt snow and ice in most of the United States. In areas of extremely high snow load 3" spacing should be considered.
Mats come standard at 37.5 watts per square foot. The mats come in many different sizes to fit any application.

Mats can also be special ordered in a 50 watt per square foot model to handle even the harshest conditions. All Ice and Snow Melt Systems should be installed with automated controls to sense when it is snowing and the temperature drops below 38° Fahrenheit. Automated controls are essential to a system that functions at peak performance. Two different types of controls are available. The size of the job and the budget will help determine which one is right for you. Air mounted controls mount above the slab and have a moisture sensor on the top to sense snow or freezing rain. They also come with a test switch. In-Slab sensors are more expensive, but do a better job of sensing blowing snow. We recommend in-slab sensors on larger jobs and areas where blowing snow may be a big concern.


We will be happy to assist you with any of your ice and snow melting needs. Just give us a call to tell us your situation and we will be happy to help meet your needs.
For questions or more information call us at 605-999-0073 or email us.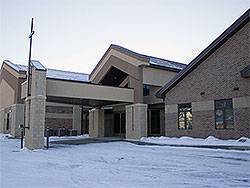 In the summer of 2013, the Wesleyan Church in Mitchell, South Dakota was constructing a new addition to the church and sanctuary. Winters in South Dakota are cold, snowy and wet. This led to a concern for the patrons of the church as they used the building entrances for the many church activities. Project engineer Chad Glanzer commented, "We really wanted to make sure that we provided safe sidewalks and entrances for the many activities we have. And, of course, having the ice and snow melt system also reduced the maintenance for the high traffic areas. We have it installed at four entrances and it has worked very well, staying ahead of the snow and making the entrances much safer. I would use it again if I had the chance and would recommend it to others with high traffic areas."
Products
Ice and Snow Melting Mat
Twin conductor mats are 2' wide in various lengths and contain 37.5 watts per square foot. 240v standard, 480v special order. Output reduced by 25% when operating at 208v.

Ice and Snow Melting Cable
Cables are 12 Watts per linear foot. Twin Conductor 240v standard, 480v. special order. 3" spacing provides output of 50 Watts per square foot. 4" spacing provides output of 35 watts per square foot. Output reduced by 25% when operating at 208v.

Danfoss Contactors , Controls & Sensors available


Moisture and Temperature
Sensor
Senses moisture and temperature to automate the melting process.