Wholesale In-Floor Heat Products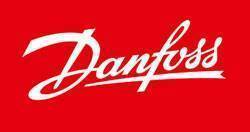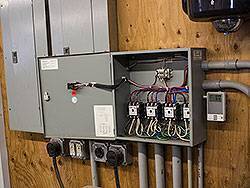 ELECTRIC IN-FLOOR Heating Cables allow you the comfort of an in-floor radiant heating system without all the added expense, hassle and maintenance of a tube and boiler system. These systems can be installed in less than half the time of a Pex Tubing system with less up front expense. Many utility companies offer reduced rates for these types of systems through the use of reduced winter heating rates or dual fuel heating rates. Shops, Basements, Garages, Warehouses, and Manufacturing Facilities are all perfect applications for an Electric In-Floor Heating System.


Customers enjoy these benefits compared to a Hydronic Tube and Boiler System:
• Reduced Installation Costs
The cost to install an In-Floor Cable System varies by area, but is typically 25% - 50% less than a Tube and Boiler System. This savings is achieved because the material cost is less than everything that is needed for a quality Tube and Boiler System. Tube and Boiler systems need PEX Tubing, Manifolds, Pumps, Valves, Copper Piping, Boilers, Glycol (Anti-Freeze), Thermostats and Wiring to name a few. The other thing that saves money is the fact that the installation time is considerably less. Average rough in of 500' of cable takes about 20 minutes to complete which saves valuable time and labor on the project.

• Reduced Maintenance Costs
The maintenance costs of whatever system you choose are often overlooked, but they shouldn't be. Maintenance costs are an expense that should be planned on, in particular with a tube and boiler. More moving parts generally means higher maintenance costs. There are moving parts that the need to be repaired and maintained over time due to leaks, corrosion and normal wear and tear of the mechanical system. Electric In-Floor Cable Systems require almost no maintenance. The systems have very few moving parts to fail. Small relays and an occasional thermostat or floor sensor generally are all that needs replacing. Cable failure is rare but if it happens a locator can generally pinpoint and make the necessary repairs. Once the In-Floor Cable system is installed the only basic annual maintenance is to set the thermostat to the desired level and enjoy the comfort of the radiant heat.
For questions or more information call us at 605-999-0073 or email us.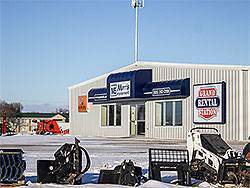 Recently, Slade Weller completed a new Bobcat equipment building that houses a shop and retail area in Mitchell, South Dakota. He chose electric in-floor radiant heat from Radiant Supply to heat the shop area. "We also looked at a complete forced-air system, but we had done a radiant system in a manufacturing plant at Fort Pierre and we ultimately knew that it was what we wanted to do," said Slade. "In a shop where there are mechanics working on the floor, their comfort was important to us. This system provides a warm, comfortable floor. The same is true in the manufacturing plant. The system warms up the objects including the walls. It is much better than trying to heat up the air and then push the air around, especially in a building with tall sidewalls." The manufacturing plant is a 21,000 sq. ft. building with 25' sidewalls. There, the radiant system is run at night on off-peak hours and the plant is warm when the employees come in. "The system is simple and it is easy. We love it. We are looking at a couple more buildings right now, and we are planning to use radiant heating in those as well."
Products
In-Floor Heating Cable
3, 6, 9 or 12 watt in twin conductor in 120,208,240,277 or 480 volt available.

Danfoss
Contactors boxes & accessories are available (see catalog)

Digital Thermostat
Non-Programmable Digital Low Voltage Thermostat. Can be used with In-Floor Sensor. Can be set to sense air or floor temperature.