Wholesale Thermal Storage Products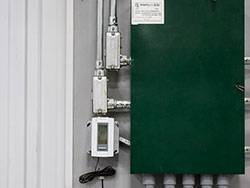 Take advantage of Reduced Electric Rates


ELECTRIC THERMAL Storage Heating can be a great way to take advantage of utility company reduced rates for electric use during off-peak hours. These are usually evening hours and help the utilities take advantage of less used power and distribute there load more evenly throughout the day, which helps them reduce demand costs. Many times these rates are up to 70% less than the general service rates.


Many large utility companies have these programs. Black Hills Power, Otter Tail Power and Xcel Energy are three examples that have fantastic off peak rates.


Thermal Storage Systems are installed a little differently than regular in-floor cable systems. Since the hours of operation are limited the wattage per square foot needs to increase. See Danfoss Sand Bed Application Instructions. Once attached to the foam the cables need to be covered with 4"-8" of sand.

Remember to front dump the sand if using a skid loader and only drive over the base of sand NOT the cables. As a rule of thumb wattage needs to increase by 30%-40% per square foot depending on the number of hours it can run. It is also very important to make sure the perimeter is insulated as well. There are various ways to insulate the perimeter, one of the best is by using a piece of 2" rigid insulation laid against the inside edge of the footing down to the insulation on the floor and cut at a 45 degree angle at the top. This method gives you a totally insulated system that prevents frost and cold from penetrating the foundation and reducing the efficiency of your storage system.
Warehouses, shop buildings, manufacturing facilities and many agricultural buildings will work great as thermal storage systems.

For questions or more information call us at 605-999-0073 or email us.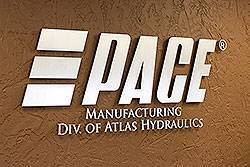 At Pace Manufacturing in Brandon, South Dakota, Chad Hasert selected Radiant Supply for the manufacturing facility. The construction of the 100,000 sq. ft. building happened in two phases, first in 2008 and then in 2010. Both phases included electric in-floor radiant heat. Pace Manufacturing wanted to utilize in-floor heat but their utility company has a commercial demand charge, which is quite expensive. There system was set up in zones from the outside of the building towards the center. The system was installed with a Brayden Automation load shedding device. When the system approached peak demand and higher utility charges the load shedding device starts to shed heating circuits. This allows the system to run at savings of up to 35%. This was made possible because of the thermal storage aspects of the heating system. Enough heat is able to be stored below the slab in the sand bed to allow circuits to be shut off for up to 16 hours at a time. "I looked at a bit of everything," said Chad. "We considered traditional radiant tubes that you see hanging from the ceiling, to forced air, to in-floor radiant. We sat down and penciled everything out. In our minds, it made sense to go with electric radiant heat. "It has given us a very clean facility, which was important to us. There is nothing hanging from the ceiling. It also provides a very quiet, comforting, warm environment. Cost was one of our considerations, but maintenance was also a factor. This system also recovers quickly, for example, if an overhead door is opened. The efficiency is also very important and we installed a software system to control the zoned heating. "Overall we have been very pleased and I would absolutely recommend it to others. In fact, we will be putting on another addition and we will be working with Radiant Supply—they understand our needs."
Products
Thermal Storage Cable
9 watt per linear foot cable twin conductor cable. 240v standard, 480v special order. Output is 9 watts at 12" spacing, 12 watts at 9" and 7 watts at 15". Output reduced by 25% when operating at 208v.

Danfoss Contactor Box



Digital Thermostat
Non-Programmable Digital Low Voltage Thermostat. Can be used with In-Floor Sensor. Can be set to sense air or floor temperature.